Stephanie Michelle Gallegos Bayas takes a nap in the living room of her family's home in Guayaquil, Ecuador. Four years earlier, doctors misdiagnosed the brain tumor in seven-year-old Michelle's skull as benign.
Michelle molds a nose out of Play-Doh while her mother, Amarilis Johanna Bayas Guevara, prepares dinner. Although Michelle cannot see and barely hear, she still does not like to be by herself.
Johanna helps Michelle dry off after showering in their home. Michelle usually takes multiple showers in a day because treatment often increases her body temperature, making her sweat.
Michelle receives required medication from her parents in the kitchen of the family's home. Every three weeks, she goes through a 15-day radiation treatment, in hopes that her tumor will reduce in size.
Israel Ricardo Gallegos Aguilar kisses his wife, Johanna, as he leaves for work at 5:30 a.m.
Living north of the center of the city, Ricardo used to walk to and from work to take his mind off of what inevitably awaited him when he got home. He and his wife fear that they will have to sell their home in order to continue to pay for Michelle's treatment.
Johanna helps Ricardo with his job's paperwork. Because of the care that her Michelle's diagnosis requires, Johanna was forced to quit her previous job.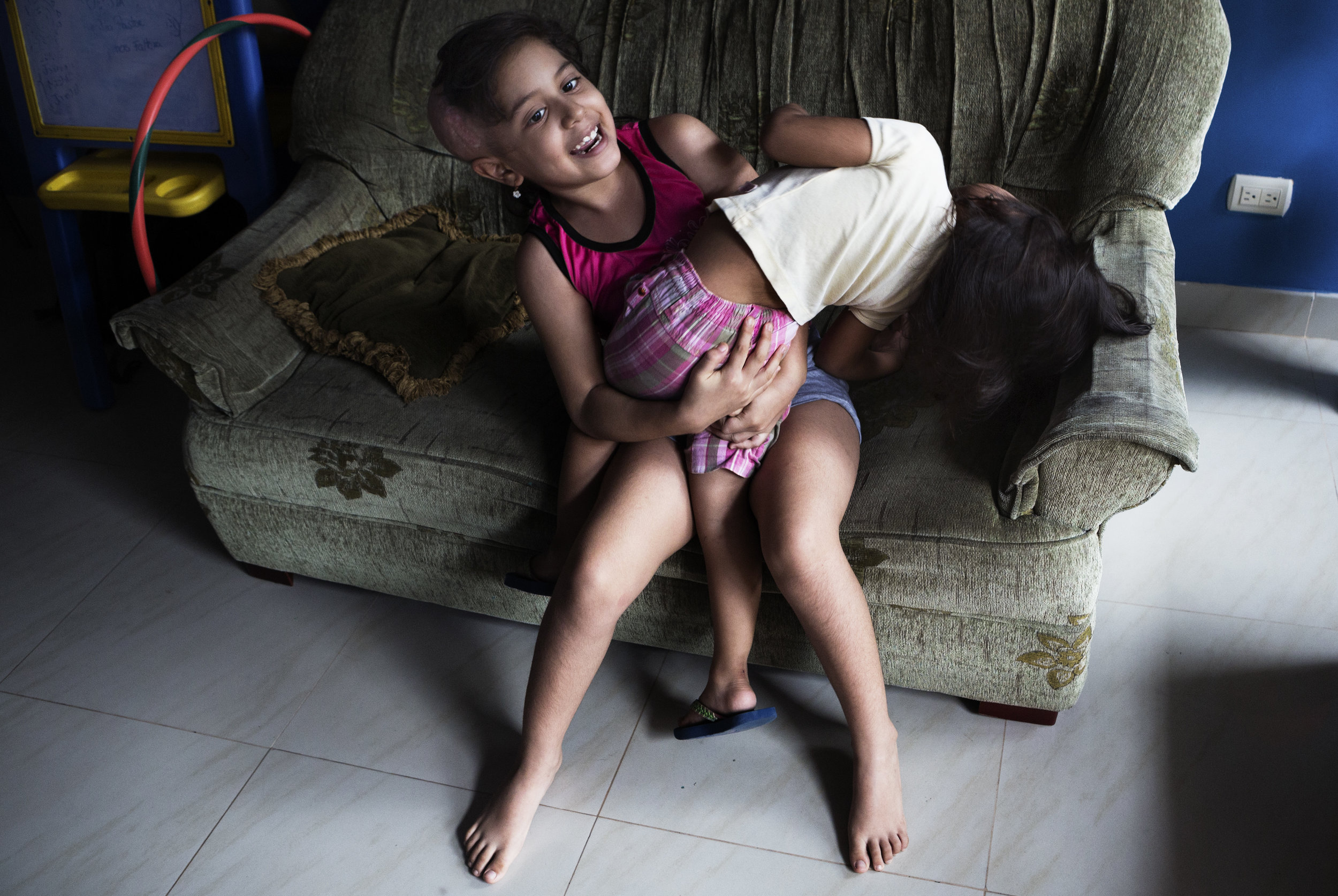 Michelle plays with her sister, Micaela Jamileth, at their home. Before getting sick, Michelle would look out for her sister when they would play with other children in their neighborhood. Three-year-old Micaela does not understand exactly what is wrong with Michelle, but now helps her sister.
Johanna communicates with Michelle at their home. Because Michelle is unable to see or hear, her family communicates with her by drawing each letter of words on her hands and shaking her fingers when responding yes or no to questions. She is still able to talk, but her family worries that she will never regain her senses back, even if the cancer subsides.
Michelle worships at the family's church with her mother. Michelle attended church that night to thank God for her tumor reducing 4 centimeters in size at her doctor's appointment the previous Saturday.
Johanna holds a bucket for Michelle when she became sick. She frequently becomes nauseous, a side effect of her radiation treatments.
Johanna assists Michelle as they walk up the steps in the entrance of their church. The family goes to church almost every day.
Michelle feels around for her father, far right, as she prepares to go to sleep. Michelle and her father's relationship is very strong; she oftentimes is aware when he enters a room, even without her sense of sight or sound. Michelle shares a bunk bed with her sister in the next room over, but frequently sleeps with her parents in their bed.
Johanna talks with Ricardo as he pours cereal for their daughters. Before being diagnosed, her father and mother relationship was not as strong. That was put aside when Michelle got sick. Ricardo says that while they are trying to still trying to save their daughter, their daughter has already saved them.
Michelle lies with Micaela at their home. On December 17, 2015, Michelle lost her battle with cancer.